Know more about our serviced office
Frequently Asked Questions about serviced office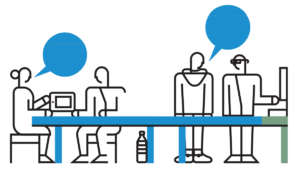 What is a serviced office
It is a fully furnished and functional Office facility that caters to various Companies with different sizes located in a Business Center.
What is Quantum Executive Business Center?
QBC is- A state- of- the- art Business Center that provides an atmosphere required for smooth functioning, supported by exceptional personalized staff located in the heart of Business Bay, Dubai. Our Office provides high quality fully furnished office spaces designed for all kinds of small, medium size to large corporations.
What services and benefits can I get with Leasing through Quantum Business Center?
Quantum Executive Business Center specializes in the following Business Package
➢ Office maintenance and DEWA covered in the rental amount.
➢ Company start- up and PRO Services.
➢ Shared bilingual Receptionist, Office Assistance and Admin Support.
➢ Complimentary Beverages.
➢ Call center assistance.
➢ High Speed Wi- Fi.
➢ Business class printers with monthly complimentary pages.
➢ Telecommunicates and IT support.
➢ Courier mailing.
➢ Virtual Po Box Service.
➢ Parking Services.
What are the sizes and process of the serviced Office QBC offers?
QBC Offices range from 200 sqft to 330 sqft in size individually. Our leases range from 4,000 AED to 6,000 AED. With a range of workstations catering from 2 people onwards.
What are the leasing terms with QBC?
Our minimum lease is 1 year, however upon termination or cancellation we request a month's notice period minimum provided that 6 months of the lease has already been consumed for.
Documents required to lease with us are;
➢ Trade License/ Initial Approval
➢ Signatory Passport and Visa Copy
➢ Cheques based on payment terms agreed.
When can I view the offices available?
Our Office hours are between 9 AM to 6PM with only Fridays off, to schedule a viewing or visit please contact us so we can arrange for you accordingly.
Will I be able to access my Office at night, weekends or holidays?
With provision of bio metric access, you can access your respective office 24/7 weekends and holidays included. We also have an active CCTV Security Support in the facility for security.
I need more answers to questions that are not included in this FAQ
Please feel free to contact us directly on 00971 42 49 8699 and Email: info@qbc.ae
let's find you together the place you deserve
For more queiries please feel free to contact us.